Binance acquista l'exchange FTX … forse !
Binance firma un LOI non vincolante
Il principale exchange di criptovalute Binance ha accettato di acquisire FTX, firmando un LOI (lettera di intenti) non vincolante, notizia che parrebbe certa visto l'annuncio dei rispettivi amministratori delegati delle società.
Come apparso in una nota Twitter, l'accordo non è in questo momento vincolante e Binance indagherà nei prossimi giorni e prima di tutto sulla situazione patrimoniale di FTX . Il CEO di Binance Changpong Zhao (CZ) ha affermato che la società ha firmato un memorandum d'intesa per l'acquisizione, al solo scopo di proteggere i suoi utenti, poiché FTX è in una crisi di liquidità e chiede aiuto.
This afternoon, FTX asked for our help. There is a significant liquidity crunch. To protect users, we signed a non-binding LOI, intending to fully acquire https://t.co/BGtFlCmLXB and help cover the liquidity crunch. We will be conducting a full DD in the coming days.

— CZ 🔶 Binance (@cz_binance) November 8, 2022
Oltremodo CZ mette "le mani avanti" ed afferma che i tempi saranno comunque molto lunghi prima che l'accordo possa diventare ufficiale. Binance esaminerà la situazione in tempo reale e potrà ritirarsi dall'accordo in qualsiasi momento. A seconda della situazione e soprattutto se il prezzo di FTT, il token FTX, fluttuerà in modo significativo.
Ha anche affermato che tutti gli scambi di criptovaluta dovrebbero dimostrare le loro riserve di FTX dopo aver annunciato l'acquisizione.
All crypto exchanges should do merkle-tree proof-of-reserves.

Banks run on fractional reserves.
Crypto exchanges should not.@Binance will start to do proof-of-reserves soon. Full transparency.

— CZ 🔶 Binance (@cz_binance) November 8, 2022
Infine CZ, offre due lezioni all' "amico" SBF, in merito alla situazione FTX, affermando che "Binance non ha mai impegnato BNB e non ha mai preso prestito".
Non impegnare i tuoi gettoni
Non indebitarti se vuoi fare affari con le criptovalute. Non utilizzare il capitale in modo "efficiente". avere una grande riserva.
Two big lessons:

1: Never use a token you created as collateral.

2: Don't borrow if you run a crypto business. Don't use capital "efficiently". Have a large reserve.

Binance has never used BNB for collateral, and we have never taken on debt.

Stay #SAFU.🙏

— CZ 🔶 Binance (@cz_binance) November 8, 2022
Binance firma una LOI non vincolante, con l'intenzione di acquisire completamente http://FTX.com e aiutare a coprire la crisi di liquidità.
Da parte sua SBF (Sam Bankman-Fried) ha affermato che l'accordo con Binance ha lo scopo di proteggere gli utenti, avvantaggiando l'intero settore ed altre amene dichiarazioni di facciata.
1) Hey all: I have a few announcements to make.

Things have come full circle, and https://t.co/DWPOotRHcX's first, and last, investors are the same: we have come to an agreement on a strategic transaction with Binance for https://t.co/DWPOotRHcX (pending DD etc.).

— SBF (@SBF_FTX) November 8, 2022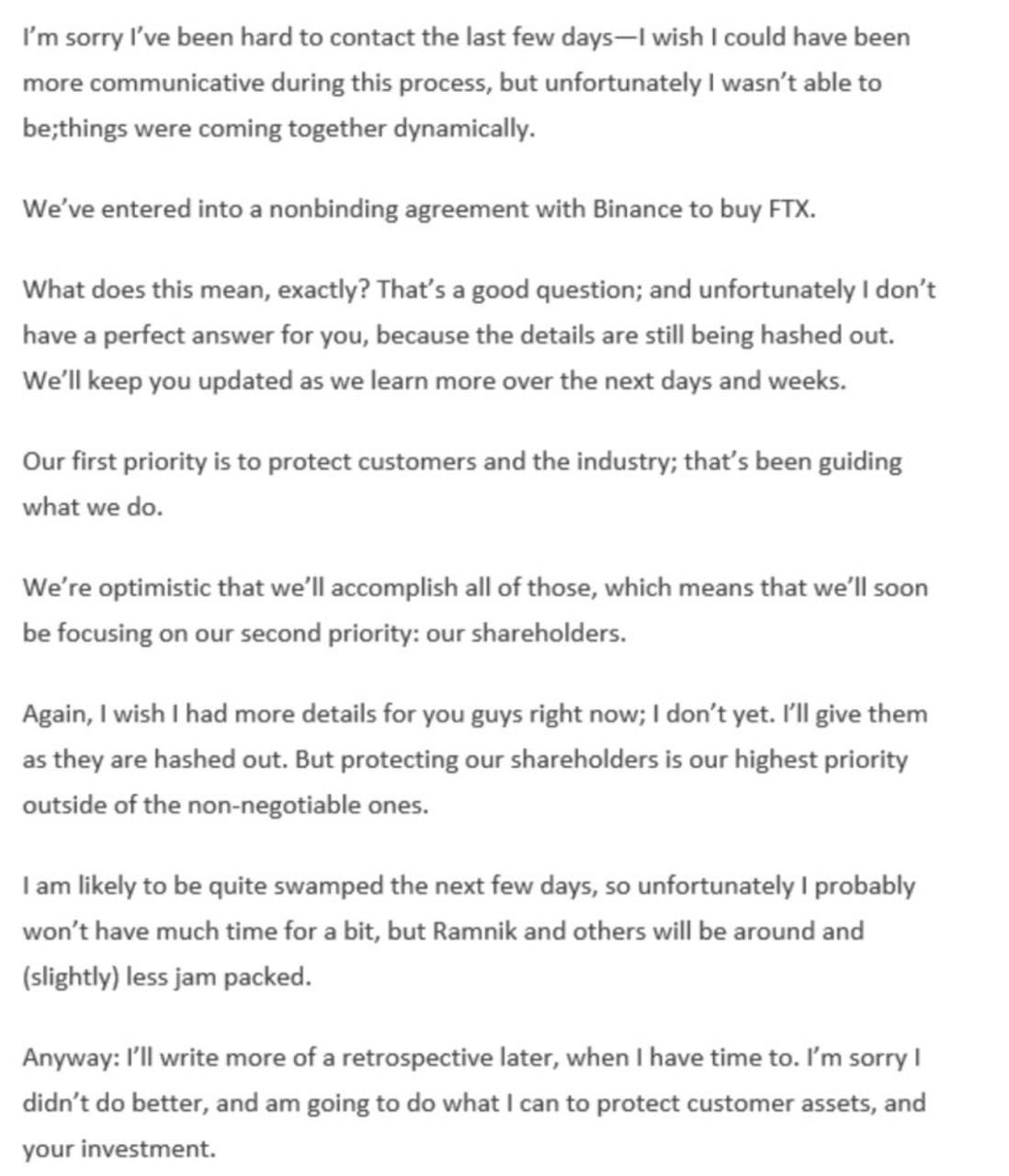 Sebbene l'attuale dramma di FTX forse starebbe per finire, la crisi per le criptovalute, è ancora troppo presto dire se è scongiurata.
Oggi Bitcoin ha raggiunto i 18.200 dollari, ma se FTX dovesse implodere, sarebbe molto devastante per l'intero settore cripto e non solo per btc
Don't mean to be the bearer of bad news here, but if it isn't clear already, if you still have funds on FTX, they're gone. You're an unsecured creditor.

The probable outcome is Chapter 11 & a class action lawsuit that draws out for years, where you get $0.10-$0.30 on the dollar.

— Dylan LeClair 🟠 (@DylanLeClair_) November 8, 2022
Stay Tuned.
Resta aggiornato con la Newsletter Settimanale
Independent researcher and consultant, Tech Writer at Blockchain Technology. From Italy