Bitcoin supera i 500 Mld $ ed entra nella TOP 10 del mercato azionario
BITCOIN MAI COSI' IN ALTO, DICEMBRE DA RECORD
Sebbene dicembre sia stato un mese che ricorda la bolla del 2017, Bitcoin supera i 500 Mld $ ed entra nella TOP 10 del mercato azionario, il prezzo infatti ha raggiunto il record di $ 20.000 il 16 dicembre, toccando un nuovo massimo di $ 22.000 il 17, di $ 24.000 il 25 e il 31 il livello di 29.000.
Il valore di mercato del Bitcoin ha raggiunto i 540 Mld di $ il 27 dicembre e sta di fatto contribuendo ad accelerare la crescita di scala di tutto il mercato crypto, almeno così si spera
Sebbene il prezzo di BTC all'inizio dell'anno fosse al livello di $ 7.000, crollando a marzo a circa $ 3.000, a causa del COVID-19, si è poi ripreso in modo significativo dopo che sono iniziati gli effetti dell' "elicopther money" su larga scala. Inoltre si è registrato a livello globale  un cambiamento nella percezione comune: detenerlo come copertura contro l'inflazione del dollaro USA e protezione del capitale.
A metà ottobre, si sono susseguite ulteriori nuove buone notizie, come l'incremento di accumolo in btc di Grayscale ed il lancio del servizio di valuta virtuale di PayPal, che hanno trasformato la situazione per bitcoin in un vero e proprio mercato rialzista.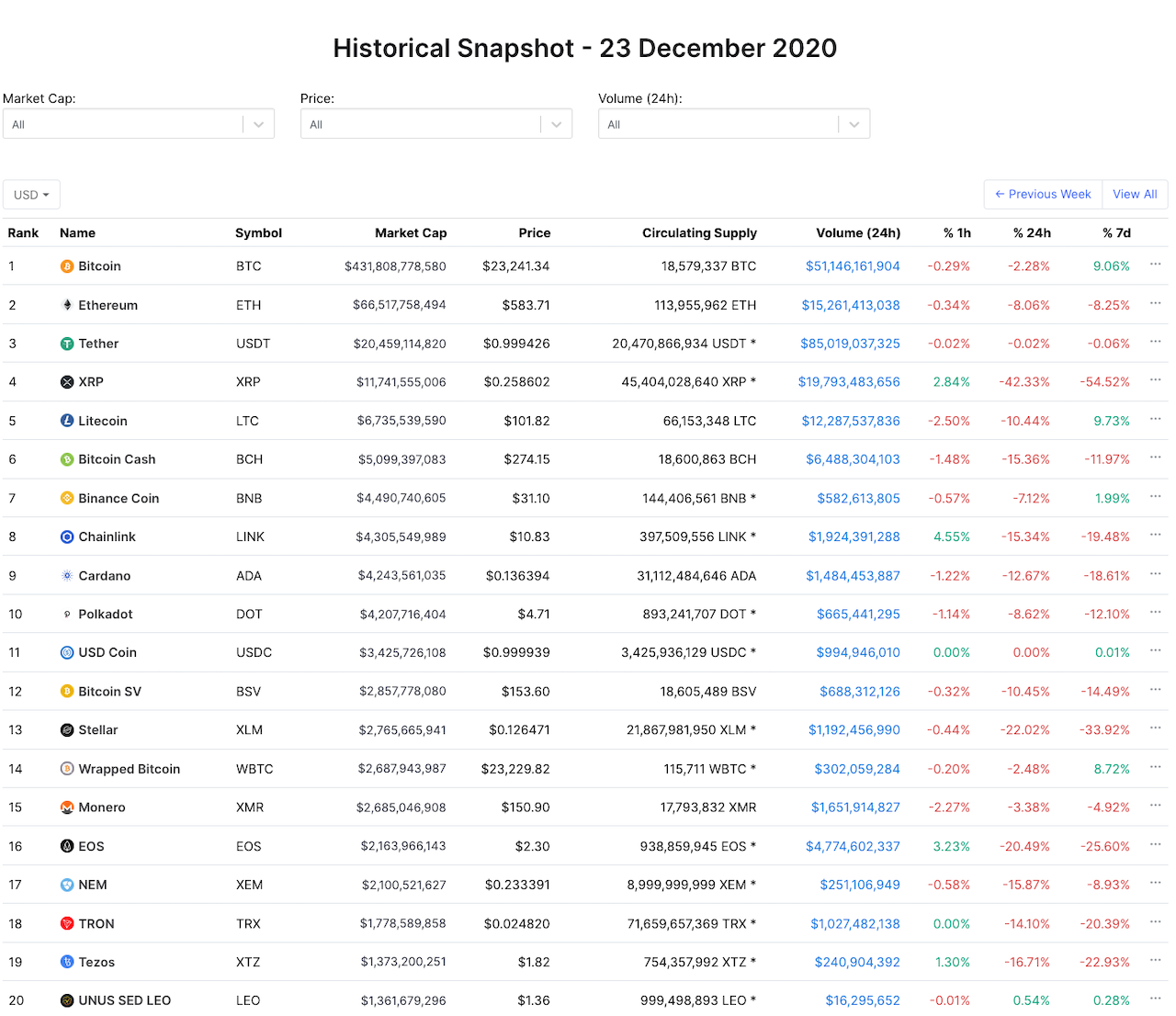 Il 2020 ha in definitiva consacrato bitcoin, battezzandolo come il più grande servizio finanziario del mondo
Bitcoin is now officially the largest financial service in the world.

h/t @truenomic pic.twitter.com/tUyTUQahJS

— Pomp 🌪 (@APompliano) December 26, 2020
Crypto ambita non solo da grandi istituzioni e comuni mortali, ma anche da big player del mondo dello sport.
Russel Okung, un popolare giocatore della US National Football League (NFL), ha qualche tempo fa twittato: "Paga con Bitcoin". E' stato accontentato, Russel è diventato il primo grande giocatore della lega sportiva americana a ricevere uno stipendio annuale con Bitcoin già a partire da Dicembre del 2020.
Paid in Bitcoin. https://t.co/Ey6oOcmLjA

— russ (@RussellOkung) December 29, 2020
Secondo un sondaggio condotto da Asset Dash, che valuta il valore di mercato delle principali azioni, il valore di Bitcoin pari a 541,8 miliardi di dollari, lo colloca tra le grandi aziende a livello mondiale, come Johnson End Johnson (JNJ), JP Morgan Chase (JPM) e P & G (PG).
Sempre secondo Asset Dash: Il CIO di Guggenheim ha fissato per 2021 un obiettivo di prezzo per Bitcoin pari a $ 400K.
Stay Tuned !
Resta aggiornato con la Newsletter Settimanale
Independent researcher and consultant, Tech Writer at Blockchain Technology. From Italy