Ethereum upgrade a Rinkeby testnet London completato
Completato l'aggiornamento a Rinkeby Testnet London
L'8 luglio 2021, lo sviluppatore capo della rete Ethereum, Tim Beiko, ha annunciato che il testnet di Rinkeby è stato aggiornato con successo a London ed è stato creato il blocco del testnet di Rinkeby .
Aggiornamento di Londra Test Rinkeby 4 luglio 2021 da maggio 8 AM 1:27:32 UTC, altezza blocco 8897988  eseguita.
Tutti e tre i testnet, inclusi Ropsten, Goerli e Rinkeby, sono stati aggiornati con successo a London.
Una testnet è una blockchain per scopi alternativi utilizzata per testare vari aggiornamenti e modifiche prima di essere applicata alla blockchain principale.
And we are live 😁🇬🇧 https://t.co/a5blKgbZym

All three testnets have now successfully upgraded to London 🎉

Note: because of OpenEthereum being deprecated after London, a block hasn't been set for Kovan yet, and it will likely upgrade after mainnet. https://t.co/rCnLDMjxZj

— Tim Beiko | timbeiko.eth 🦇🔊 (@TimBeiko) July 8, 2021
Link: https://rinkeby.etherscan.io/block/8897988
Conferma del blocco e della pianificazione dell'attivazione della mainnet di Ethereum London Hard Fork
Intanto il 7 luglio 2021, la specifica di aggiornamento della rete Ethereum è stata aggiunta alla pagina GitHub di Ethereum e la creazione della rete principale al blocco 12965000, è prevista per il 4 agosto 2021.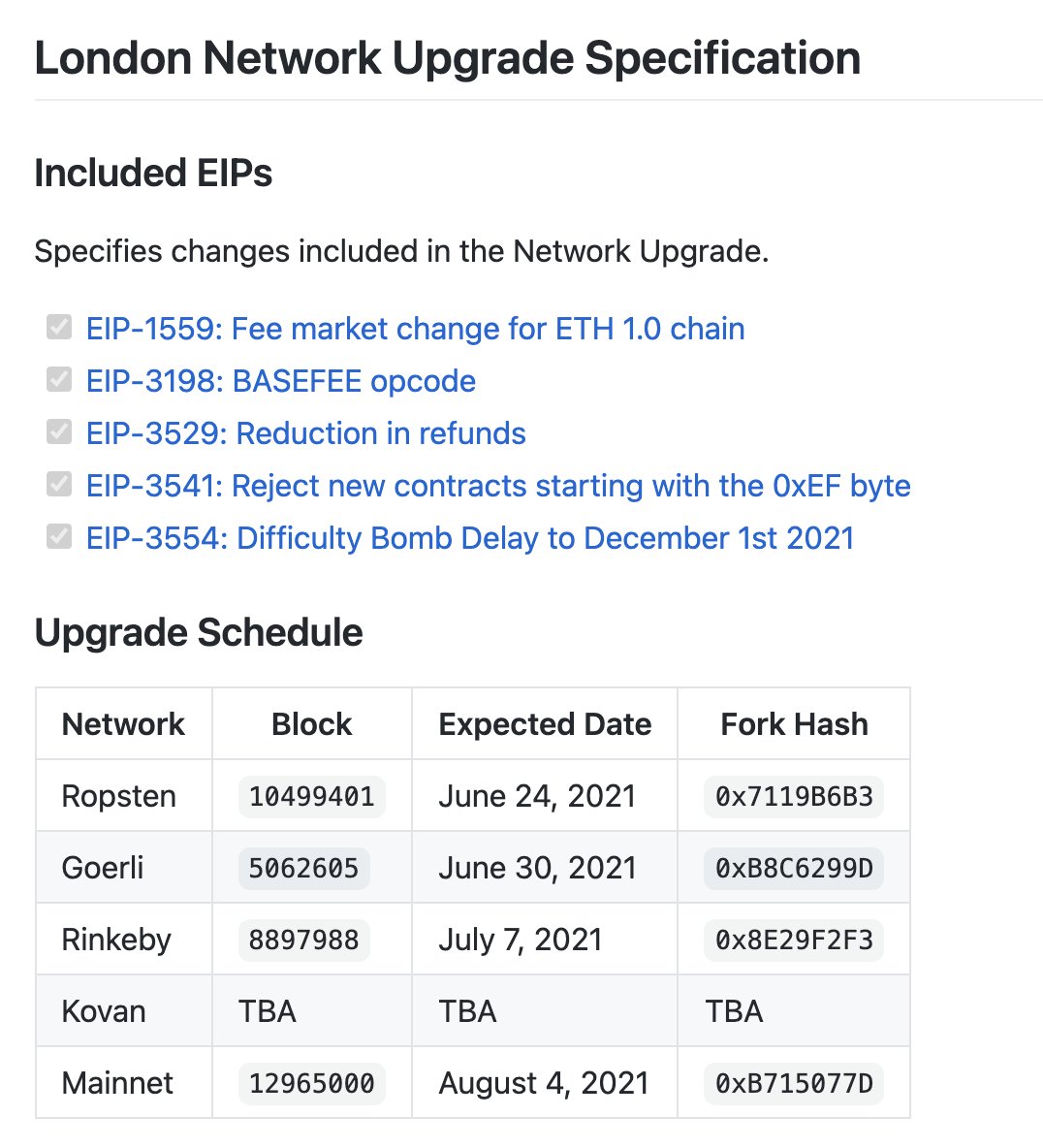 … and it's merged ✅!

Expect client releases end of this week / early next week, and a proper announcement early / mid next week 🇬🇧 https://t.co/GboebjdNpp pic.twitter.com/gf3pM9JgbK

— Tim Beiko | timbeiko.eth 🦇🔊 (@TimBeiko) July 7, 2021
Resta aggiornato con la Newsletter Settimanale
Independent researcher and consultant, Tech Writer at Blockchain Technology. From Italy