Notizie sulla catena di Ethereum e DeFi
Importanti dati sulla catena Ethereum (ETH)
Arrivano importanti dati sulla catena Ethereum (ETH), che riguardano la seconda maggiore capitalizzazione di mercato e attualmente ha un valore di $3,785.69, mentre l'importo locato sullo Staking è pari a 7.980.000 ETH (+ 860.000 ETH rispetto alla settimana precedente)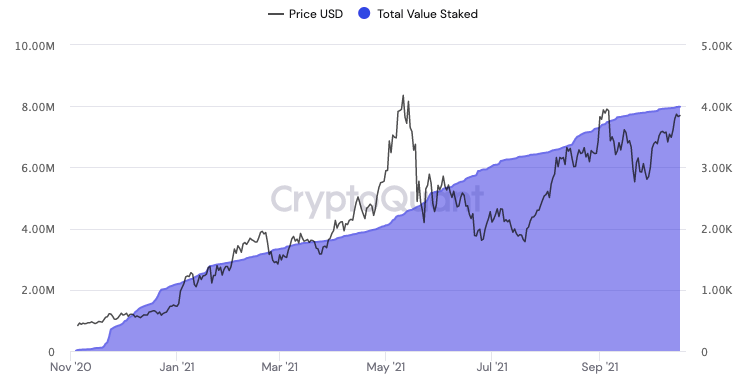 Dati sulla catena Ethereum: Burn
Il sito di analisi delle criptovalute Token Terminal, ha sottolineato ieri che Ethereum ha ricevuto commissioni pari a $ 1 miliardo negli ultimi 30 giorni, di cui circa l'82% già bruciato .
ICYMI

Users of @ethereum have paid ~$1.0B in transaction fees over the past 30 days.

Of that ~$1.0B, 82.45% or ~$824M was burned* and thereby returned to $ETH holders.

*The burn mechanism is similar to a stock buyback because it decreases the amount of tokens in circulation. pic.twitter.com/FLzptAXM09

— Token Terminal (@tokenterminal) October 17, 2021
BURN
Che cos'è ?
Si tratta di un meccanismo per ridurre l'offerta di valuta virtuale in modo simile all'"acquisto di azioni proprie". Le società che riacquistano le proprie azioni riacquistano le azioni emesse con il proprio denaro. In caso di riacquisto, il numero di azioni sul mercato diminuisce, aumentando il valore per azione e con un impatto positivo sugli azionisti.
Quindi "Burning token" aumenterà il valore di ogni ETH in circolazione a causa degli effetti della domanda e dell'offerta.
Token Burn è un processo in cui i minatori e gli sviluppatori rimuovono le monete dalla circolazione. In altre parole, il Token Burn è un processo di distruzione della moneta in modo che non sia disponibile per un ulteriore utilizzo (commercio o altro). Gli sviluppatori e i minatori invieranno le monete agli indirizzi specializzati le cui chiavi private non sono accessibili. efi
Secondo il sito di statistiche Watchtheburn , il numero totale di burn al 18/10 ha superato 560.000 ETH. (+60.000 ETH rispetto alla settimana precedente).
#Ethereum Burn Update

Current Basefee: 69.2 Gwei

Avg Miner Tip: 1.68 Gwei

Total burnt $ETH: 572698.37 ETH

Total burnt $ETHUSD: $2,180,297,056https://t.co/IjNPIjraWa

— Burned Ether 🔥🔊🦇 (@BurnedEth) October 19, 2021
DeFi
Ad oggi la TVL (Total Value Locked) sulla piattaforma DeFi ammonta a 223,5 miliardi di dollari. Dalla settimana precedente, TVL sta stabilendo un record assoluto per la seconda settimana consecutiva.

TVL (Total Value Locked) si riferisce alla quantità totale di asset di criptovaluta depositati nel protocollo DeFi.
Resta aggiornato con la Newsletter Settimanale
Independent researcher and consultant, Tech Writer at Blockchain Technology. From Italy